Michaela Having Her Pussy Porked By The Piano Man!
Posted on 22 de May de 2012 by spicyhardcore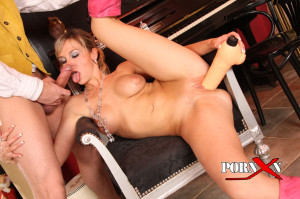 Michaela is back and this time she is having her pussy porked by the piano man! Women love a guy with musical talents not because they want to sit and listen to his songs but because a guy who can 'tickle the ivories' with all ten fingers is definitely going to be able to strike a chord when flicking her clit! Vlad isn't much of a composer but his thick cock and excellent rhythm have made him very popular among the local ladies. Dildo fucking takes a good amount of coordination flexibility and strength… for the person wielding the sex toys. Though it's nice if the whore has some coordination flexibility and strength as well for sure!