Bond Up & In Charge!
Posted on 16 de May de 2012 by spicyhardcore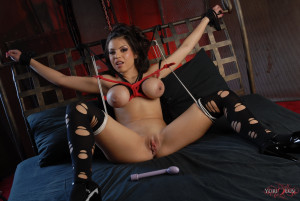 Oh man, this is a classic, as you will see. This is my very first bondage scene of this nature, I really enjoyed doing this one and is 100% real! Watch me verbally abuse this dumb fucking bitch boy to get what I want! I may be tied up in this exclusive bondage scene but I'm still in charge. This & all my scenes can only be found here at YuriLuv.com! And you're going really love what he does to my nipples and pussy, and how much I cum! Also don't miss the end of this hot scene as I take my bitches cock down my throat, choking on it the entire time. I also take his hot fucking load down my throat to boot! Please enjoy this crazy fucking bondage set as this is something new for me! Sometimes I like being in charge!